In the begining...
On October 23, 1958 the Smurfs made their first appearance in a story of Johan & Peewit in "Le Journal de Spirou". Their creator Peyo had worked previously at a number of drawing jobs. But the introduction of the Smurfs into Spirou would change his life.
At first, the Smurfs were just secondary characters. But they soon became stars in their own right. After a few mini-albums, their tales began to appear as full albums. Then the film "The Smurfs and the Magic Flute" appeared, with music by Michel Legrand (he also sang in the chorus !).
Music provided the next big step also, when the Dutch singer Vader Abraham released the first Smurf single. It was a massive hit in Belgium and Holland, followed by the rest of the world. Soon, figurines, plushes, toys, (hit) records and above all the TV shows brought them right around the world. In 1981, the celebrated cartoon duo Hanna & Barbera (who created Tom & Jerry and later the Flinstones and Yogi Bear) started work on a TV series for the NBC network in the USA. No fewer than 256 episodes were produced, which are currently showing in roughly 30 countries.
Although their creator Pierre Culliford - better known as Peyo - is no longer with us since Christmas 1992, the Smurfs have never been so popular. Over 10 million copies of Smurf CDs have been sold in the last 3 years alone. The books, activity books, figurines and toys are amongst the most popular in the world. The TV series is regularly re-issued as video collections in dozens of languages, as well as CD-i and in storybook form.
And with the new style and the increasing range of Smurfimedia coming out, the little blue men are sure to have plenty of surprises for fans in the years to come.
Azrael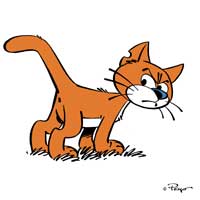 This flea-bitten cat is Gargamel's scapegoat. He follows the wizard everywhere, hoping his master will one day catch a tasty little Smurf and throw it to him to eat. That hasn't happened yet. But even though he is as stupid as Gargamel, he is a permanent menace for any Smurfs that happen to wander close to Gargamel's hut.
Baby Smurf
One night when the moon was blue, a stork brought Baby Smurf to the village. No one knows where he came from. Immediately adopted by all the Smurfs, he completely changed their quiet little lives - but no one's complaining. Everyone loves Baby Smurf, with all his good and his bad sides!
Brainy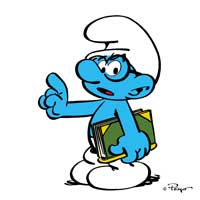 The only Smurf to take everything seriously! Brainy spends his time preaching to others, stupidly mumbling old quotes. Whatever Papa Smurf says is, for him, absolutely sacred. And he's a notorious telltale, something that earns a regular bang of a mallet on the head. Even though his friends like him, they think he can be a real pain in the Smurf occasionally!
Cook Smurf
With his toque and spotless white apron, it's easy to spot Cook Smurf. From his house you usually can smell delicious warm buns, crusty brioches and every type of cake and tart. The Smurfs absolutely love the various creations of this talented cordon bleu.
Farmer Smurf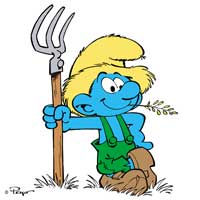 Delicate ears should stay clear of Farmer Smurf's foul mouth. He's easily recognisable in his straw hat and green overalls. In general, he doesn't bother much with village life, preferring the company of his lettuce and vegetables.
Gargamel
Gargamel is a nasty, sneaky and hypocritical wizard that lives in a horrible cottage in the heart to the forest. He hates Smurfs and does everything within his power to capture them. Luckily for them, he also happens to very stupid, so they have always been able to escape. But be careful, he has sworn revenge.